"Äntligen" kom kylan! -20°C.
Nu blir isarna tjockare och säkrare. Vi har haft lite problem med allt vatten som bildats uppe på isen vid de "varmare" temperaturerna som varit den sista tiden.
Hoppas nu att det får vara lite kallt några dagar.
Hundträningen fortsätter enligt plan men Stina och jag får börja använda de varma vinterkläderna. Ylle närmast kroppen är ett måste!
Kolla gärna in vårt nya galleri med bilder från Kebnekaiseområdet 2006, Se länken nedan.
/Matti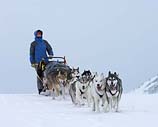 Dogsledding in Kebnekaise 2006.
The photographer Peter Lilja followed us during a couple of days when we made a freight tour with an english skii group.