"Finally" the cold arrived! -20°C.
Now the ices become thicker and safer. We have had some problem with all the water that came upon the ice with the "warmer" temperatures we had for the last days.
Hopefully the cold weather will stay for a couple of days.
We train the dogs as usual but Stina and I have to put on the warm winter clothes. Wool closest to the skin is needed!
Look at our new gallery with pictures from Kebnekaise 2006. Follow the link underneath…
/Matti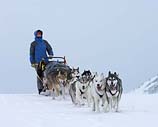 Dogsledding in Kebnekaise 2006.
The photographer Peter Lilja followed us during a couple of days when we made a freight tour with an english skii group.