People crowding along the village streets. Down jackets in all colours, fur coats and fur hats are brought out from the attics, sometimes it almost feels as if time stands still and that everything is as it always has been at Jokkmokk Winter Market. People meet socialize and do business with each other during northern Sweden's largest winter festival.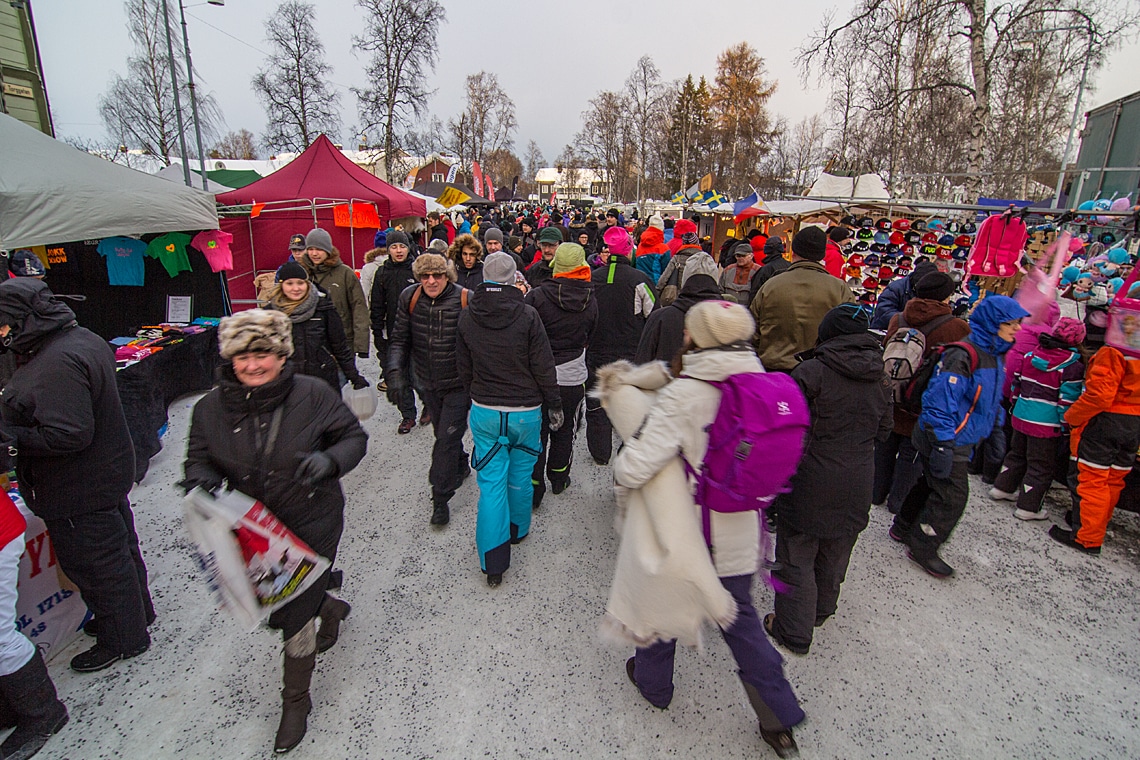 Jokkmokk Winter Market is one of the oldest market places in Sweden with traditions all the way back to middle ages. Jokkmokk´s market has a long history with a 400-year-old tradition.
Read more about the Jokkmokk Market history >>
The market week in Jokkmokk is an extraordinary happening. Already several weeks before the market the whole community start to vibrate of activity. The snow gets out of the way from the streets, planning for the market stalls starts, the tempo gets higher and the people are full of expectations. The first visitors start to come already the weekend before, fully dressed in fur hats and thick down parkas.
Many people come back year after year. It seems like it become addictive and you want to come back and meet old and new friends, the meetings with all the great people are one of the greatest things.
Jokkmokk has always been a natural meeting place for people from near and far. The market area in itself is not the most important. Except from all the people you meet it's also about all the interesting lectures, dances, Sámi joik concerts and the art and handicraft exhibitions etc.
Today, Jokkmokk's Winter Market is the most important event for cultural and creative industries in Nordkalotten, the most northern part of Norway, Sweden, Finland and Russia and has an exceptional position as a meeting place for the Sami, the indigenous people of the area, Sápmi.
If you are looking for more info about Jokkmokk Winter Market such as day-to-day program and info about allotment etc. you should take a look at the official website for Jokkmokk Winter Market >>
During the Jokkmokk Winter Market we offer activities together with our colleagues.
Get away from the market stress and join us for a dogsled tour. Experience the feeling of swishing along on a dog sled behind a bunch of powerful huskies and enjoy the talks around the crackling fire.
During the Winter Market week 30 Jan – 5 Feb 2023 we offer daily tours with fixed departures.
Pick up and drop of by car in the center of Jokkmokk is included.
We also offer a holiday package where we have picked out the gems of Jokkmokk Market. 6 days packed with amazing activities with accommodation in the center of Jokkmokk.
To the Jokkmokk's Winter Market activities and holiday package >>