The rain is pouring down in Jokkmokk and we are longing for the white clear winter days.
The huskies has been in training already since the beginning of August and are just as happily excited and eager each new training run regardless of the weather.
We sit wet and muddy on the quads and dream away to the days back on the dog sled out on the white wide open spaces in the mountains.
So, between the training runs we dry up inside with a cup of tea in front of the computer and flip through our winter images.
Of course we like to share!
Here is a new gallery, this time from the tour Explore Sarek National Park in march 2010.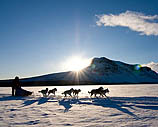 Explore Sarek National Park 2010
Picture gallery from our most demanding tour straight through the mythical Sarek National Park. All images are photographed by Jokkmokkguiderna on the tour in march 2010.
 Do you like to see more pictures? Take a look in our
photo gallery
.
You can also see video clips from some of our dog sledding tours in our video gallery.
/ Stina & Matti