During some days in February 2009 Hilldebrand Breuker followed us on a three day photo safari. The target was Tarravalley west from Kvikkjokk. During 2011 Hilldebrand will try to arrange a photo safari together with us here in Jokkmokk.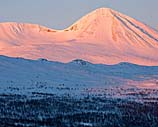 Photo safari in Tarravalley 2009
Three days photo safari with Hillebrand Breuker in mountains west from Kvikkjokk. Some really cold days in February 2009.