The autumn is here and soon the first thin ice will be covering the lakes and the first snowflake will fall from the sky.
The autumn is the time for getting the huskies fit for the winter and planning and preparing for the coming season.
We have picked out some photos from the dog sled tour Crossing Lapland with dog sled from 2008 to 2010. A tour that gives you everything from small timber huts in the woodland of Jokkmokk in the east, to the wide open spaces on the bare mountains in the west. A journey behind sled dogs covering a distance of 220 km during 6 days.
Have a peek and get lost in dreams about the coming winter adventures!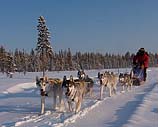 Crossing Lapland 2008-2010.
Eight days, from Jokkmokk, over frozen lakes, through snow covered forests up to the mountains and Saltoluokta mountain station.